GOLDEN AERIAL SURVEYS IS HERE TO SERVE YOU
To all of our Clients and Friends in the Surveying and Civil Engineering community; the 2012 Spring flying season with leaf off conditions is over. This does not mean that we cannot help you if you have a project which needs our Photogrammetric Mapping services.
If you have a site which has had changes that have taken place since our date of Library Photography coverage, we may still be able to help. If the areas that have changed are not covered with vegetation, we can re-fly the site, map the modified areas from the new flight, then we can use our Library coverage to finish the site where no changes have taken place, under the tree cover.
Our Library Photography was flown in March and April from 2001 thru 2009, and is suitable for map scales as large as 1"=40' with 2' contours.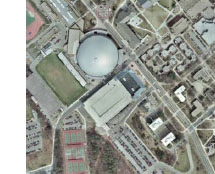 If there is anything we can help you with regarding proposals orproject planning, please let us know.
GOLDEN AERIAL SURVEYS, INC.
203-426-3322 (Phone)
203-426-8867 (Fax)
www.lgjohnson@goldenaerialsurveys.com

Golden Aerial Surveys, Inc. has been an active supporter of CALS and NYSAPLS for over 25 years.